Episode 375 (Duration 23:20) – Former prosecutors who leave their office face uniques circumstances when they represent individuals charged by the same prosecutor's office.
Subscribe: Apple | Google | Spotify | Android | RSS | Direct Download
APPLE PODCASTS GOOGLE PODCASTS
In This Episode
"If there can be any possible conflict you get it in writing…" — Illinois Attorney Nrupa Patel.
Attorney Nrupa Patel
Attorney Nrupa Patel is a former Assistant State's Attorney from Macon County, Illinois.
Since June 2017, she has been a partner at the firm of Bolen Robinson & Ellis in Decatur, Illinois where she represents individuals in criminal court.
"Can't Miss" Moments:
✓ Do you know the 3 per se conflicts of interest defense attorneys have to worry about? Relax. Here they are: (1) Where defense counsel has a prior or contemporaneous association with the victim, the prosecution, or an entity assisting the prosecution (2) Where defense counsel contemporaneously represents a prosecution witness; and (3) Where defense counsel was a former prosecutor who had been personally involved in the prosecution of defendant.
✓ In Nrupa's real life scenario a prospective client was charged while she was still at the prosecutor's office. However, she did not prosecute the case, had no involvement and was pretty sure she didn't discuss the case with anyone. Should she or shouldn't she take the case? What other factors would you like to know about?
✓ There's one thing most attorneys aren't doing that Nrupa is doing to avoid finding herself in sticky conflict of interest situations. Listen in to discover what she's doing different.
✓ In this area of the law the case law says one thing and the professional rules of responsibility say something else. Listen in to see how the cases and the rules relate to each other.
✓ Nrupa divulges her ultimate decision in an actual case. She also lets us know what details would have changed her decision. And she explains why she resolved an almost identical scenario quite differently. 
Links & Resources
See Also
You may also want to check out…
Before You Go…
Case law mastery is crucial too zealous and effective advocacy.
I've come to believe that steady, persistent attention to the cases can increase any attorney's litigation skills.
If you're looking for the easiest way to keep up with the cases and ready to begin having a litigation advantage over your opponents then hit the link below.
I'm Ready To Start Making Better Use Of My Drive Time And Ready To…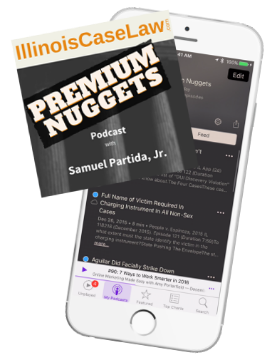 Increase my litigation skills.
Easily identify winning scenarios.
And get the most recent case law updates.
The Premium Nuggets is by Invitation Only
(Click Here To Join The Waiting List)