Scott's Law in Illinois is the requirement that drivers slow down and move over when police cars or other emergency vehicles are stopped on the roadway.
Scott's Law Basically Says…
Scott's law requires that a driver proceed cautiously when an emergency vehicle is stopped and
Move over and change lanes and/or
Slow down if changing lanes is impossible.
The law imposes enhanced penalties, a possible driver license suspension, and even jail time for severe violations.
625 ILCS 5/11-907(c)
The exact language of the section provides that:
"
(c) Upon approaching a stationary authorized emergency vehicle
, when the authorized emergency vehicle is giving a signal by displaying alternately flashing red, red and white, blue, or red and blue lights or amber or yellow warning lights,
a person who drives an approaching vehicle shall
:
(1) proceeding with due caution, yield the right-of-way by making a lane change into a lane not adjacent to that of the authorized emergency vehicle, if possible with due regard to safety and traffic conditions, if on a highway having at least 4 lanes with not less than 2 lanes proceeding in the same direction as the approaching vehicle; or
(2) if changing lanes would be impossible or unsafe, proceeding with due caution, reduce the speed of the vehicle, maintaining a safe speed for road conditions and leaving a safe distance until safely past the stationary vehicles."
Scott's Law Fines
Maximum fines for a violation of Scott's Law can be up to $10,000. The chart below outlines the minimum fine that is applicable:
| | |
| --- | --- |
| Minimum $250 up to $10,000 | For 1st offense |
| Minimum $750 up to $10,000 | For 2nd or more offense |
Suspension Of Drivers License Under Scott's Law
A violation of Scott's Law is considered a moving violation in Illinois. That means the secretary of state will assign points against your driving record and a discretionary suspension under 625 ILCS 5/6-206 may be incurred.
However, the chart below describes certain mandatory suspensions under Scott's Law if there are aggravated circumstances:
| | |
| --- | --- |
| 90 days to 1 year | If there is property damage |
| 180 days to 2 year | If there is personal injury |
| 2 year suspension | If there is a death to a person |
625 ILCS 5/11-907(e), (f), (g).
Jail Time For A Scott's Law Violation
An ordinary violation of Scott's Law in Illinois is considered a business offense. That means it is punishable by fine only.
However, Scott's Law may classified as a crime and a person may face jail time under the conditions listed below:
| | |
| --- | --- |
| Class A Misdemeanor | If there is damage to anther vehicle |
| Class 4 Felony | If there is injury or death to another person |
625 ILCS 5/11-907(d)
Class A Misdemeanor
Class 4 Felony.
Links & Resources
Attorney Peter Wachowski Discusses Defending Against A Scott's Law Ticket
Episode 751 (Duration 13:45) Illinois attorney Peter Wachowski explains some of the intricacies of defending against a charge under Scott's Law.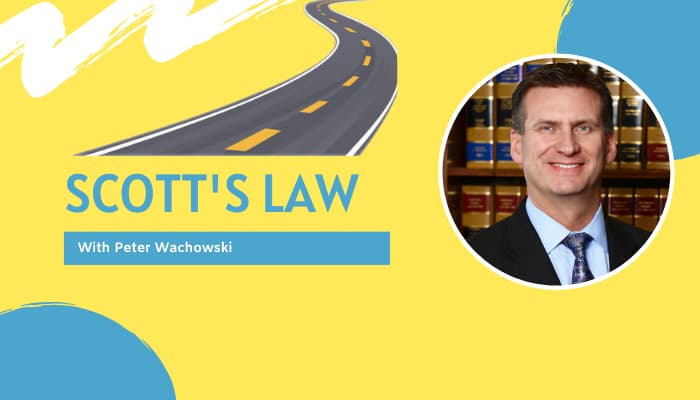 Subscribe:
Apple
|
Google
|
Spotify
|
Android
|
RSS
|
Direct Download
APPLE PODCASTS GOOGLE PODCASTS
In This Episode…
"That's the speed limit! You're suppose to slow down." — Peter Wachowski
Going to trial against a charge of violating Scott's Law can get kind of tricky. In this episode an experienced trial attorney describes the process.
Attorney Peter Wachowski
Attorney Peter Wachowski has an active civil law practice focussing on Personal Injury, Worker's Compensation and Civil Litigation.
However, Peter also is highly experienced in DUI litigation and defense and represents clients in other criminal law matters.
Contact Information
15 N. Northwest Hwy
Park Ridge, IL 60068
"Can't Miss" Moments:
✓ The "move over" law says you must do one of two things or both when you see an emergency vehicle stopped on the roadway. Not doing these things can lead to pretty serious consequences. (Go to 2:15)
✓ Scott Gillen was a Chicago Fire Department Lieutenant who died in the line of duty two days before Christmas in 2000 when a drunk driver collided with vehicles assisting at a crash scene on the Dan Ryan Expressway. (Go to 3:29)
✓ "The official day of remembrance of him is December 23rd." — Peter Wachowski (Go to 3:50)
✓ Peter learned some valuable lessons in defending against an allegation of violating Scott's Law. You don't want miss what Peter has learned from court trials on this charge. (Go to 6:07)
✓A great example of when going the speed limit can get you in big trouble. (Go to 7:53)
✓ Judge's don't like these things. You should expect the judge to do you no favors if you're accused of violating Scott's Law. (Go to 10:02)