What Is The Exclusionary Rule?
The exclusionary rule is when a court prevents the prosecution from using any evidence it believes was obtained in violation of the constitution.
The exclusionary rule is the principal judicial remedy courts use to deter Fourth Amendment violations.
When a court applies the exclusionary rule society pays a significant cost.
After all, the exclusion of evidence means:
Ignoring Reliable Often Trustworthy Evidence
Setting a Criminal Loose Back Into the Community
Interfering With Functions of a Judge or the Jury
Like many things in the law, there is a balancing of competing interests that must be weighed before the exclusionary rule can be applied.
Society Pays A Heavy Price For The Exclusionary Rule
The significant costs of the exclusionary rule have led courts to apply it only where its deterrence benefits outweigh its substantial social costs.
Application of the exclusionary rule must be limited to those "unusual cases" where it can achieve its sole objective of deterring future fourth amendment or constitutional violations.
The Good Faith Exception Says…
Evidence will not be excluded where police acted with an objectively reasonable good-faith belief that their conduct was lawful. This is called the good faith exception to the exclusionary rule.
The idea is that when police act in good faith there is no illicit conduct to deter. Police who relied on binding appellate precedent are not subject to the exclusionary rule.
In Illinois the exclusionary rule and the good faith exception are applied the same way as in the federal system.
Suppression of evidence has always been the last resort, not a court's first impulse.
See People v. Turner
Subscribe:
Apple
|
Google
|
Spotify
|
Android
|
RSS
|
Direct Download
APPLE PODCASTS GOOGLE PODCASTS
See People v. Turner, 2018 IL App (1st) 170204 (February). Episode 462 (Duration 9:30) (Good faith exception saves this warrantless blood draw.), quoting Davis v. United States, 564 U.S. 229, 241 (2011).
See Also People v. LeFlore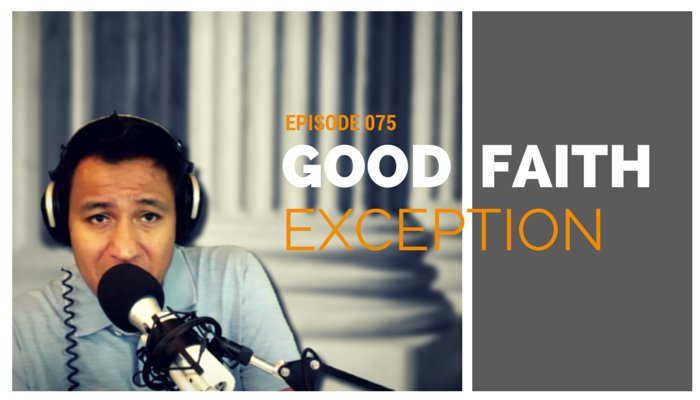 People v. LeFlore, 2015 IL 116799 (May). Episode 075 (Duration 25:16)
Issue
The issue that the Illinois Supreme Court was reviewing was whether the good-faith exception to the exclusionary rule is applicable under the circumstances of this case?
Facts
Defendant was convicted of aggravated robbery for holding up a gas station with a cane wrapped-up to look like shot-gun.
Procedural History
While this case was pending on appeal, the United States Supreme Court decided United States v. Jones, 132 S. Ct. 945, 948-49 (2012).
This case held that police need a warrant if they are going to use a GPS tracking device on a car. This case was not out when police used a GPS
Holding
The court held that suppression of evidence was not warranted in this case because binding precedent existed and the officer was objectively reasonable in relying on the legal landscape.
The court cited the following cases in support of the argument that binding precedent existed:
Davis v. United States, 131 S. Ct. 2419, 2427 (2011)
United States v. Knotts, 460 U.S. 276 (1983)
United States v. Karo, 468 U.S. 705 (1984),
United States v. Garcia, 474 F.3d 994, 996-97 (7th Cir. 2007)
There was a complete lack of police culpability here, and there would be little or no deterrent value to suppressing the evidence. The cost to society of letting a clearly guilty repeat offender go free is too great.