Episode 487 (Duration 32:12) Illinois has one of the broadest expungement and sealing laws in the country. Listen in to this 30 minute interview with an Illinois attorney who explains the issues in terms easy to understand and follow.
Subscribe: Apple Podcasts | Spotify | Google Podcast | Android | RSS | Direct Download
APPLE PODCASTS SPOTIFY Google Podcast ANDROID
I'm Ready To Start Making Better Use Of My Drive Time And Ready To…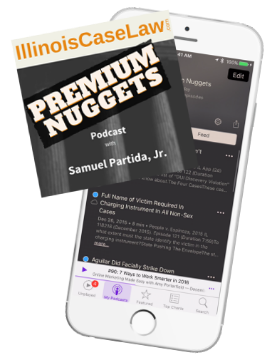 Increase my litigation skills.
Easily identify winning scenarios. 
Get fast and efficient case law updates.
The Premium Nuggets is by Invitation Only
(Click Here To Join The Waiting List)
In This Episode…
"With a stroke of the pen from Governor Rauner we became the most liberal state, I would say perhaps a better word 'permissive' state, on sealing, specifically…" — Paul Meyers.
Attorney Paul Meyers
Paul Meyers graduated from the University of Tulsa law school in 2011, where he was on law review and interned for the Tulsa County Public Defender's Office.
After passing the bar, Paul worked for the Kane County Public Defender's office for 5 years before joining Robert Callahan & Associates in 2017.
How To Contact Paul Meyers
Robert J Callahan & Associates
2500 South Drake Avenue
Chicago, IL 60623
(312) 322-9000
meyers999@gmail.com
Links & Resources
"Can't Miss" Moments:
✓ Expungement means to destroy or return records to a petitioner. Why expungement is generally better than sealing. (Go to 2:13)
✓ Sealing means to make records unavailable without a court order except for certain parties generally in law enforcement and public safety. When you can't expunge a record, why you should seal it if you can. (Go to 2:25)
✓ Discover THE BIGGEST change between the old expungement law and the new law. You won't believe what convictions are now eligable for expungement. (Go to 3:54)
✓ Exactly what can you expunge? (Go to 4:46) & (Go to 24:08)
✓ See how veterans are treated under the new expungement regime. (Go to 6:32)
✓ A loophole to expunge convictions that can't be expunged. (Go to 6:56)
✓ Exactly what can you seal? (Go to 7:42) & (Go to 24:08)
✓ Discover THE BIGGEST change between the old sealing law and the new law. This is why they are calling Illinois one of the most permissive state's in the country. (Go to 8:55)
✓ Don't waste your time on trying to seal these 8 types of offenses. You won't believe what convictions are now eligible for sealing. (Go to 9:18)
✓ Many things have changed drastically, here is what has stayed the same. (Go to 10:42)
✓ WARNING: The new rules only give you one chance to seal convictions. If you get a new conviction after sealing there's no do-overs. PLUS, the state can reverse any files you had sealed. ADDITIONALLY, one thing that has changed is that nothing is automatic. The state, police and the judge can all still object. (Go to 11:46) & (Go to 23:50)
✓ What happens after you file? (Go to 12:23)
✓ The "objection" trap and "public policy" punch you may walk into and what to do about them. (Go to 12:44)
✓ In some counties you're in for a shock if you think you're going to file and get a hearing within a reasonable time. (Go to 15:18)
✓ The one question you should ask before filing a petition to expunge or seal a court record. (Go to 16:35)
✓ The truth about what employers can and can not ask you about sealed or expunged records. How to handle questions about your criminal history. (Go to 17:41)
✓ Who may want to consider NOT filing a petition to seal or expunge even though they may be technically eligible. Look out for completely inappropriate and illegal questions you may see on job applications. (Go to 19:40)
✓ When there's no fee to file a petition and why you can't file a petition to seal right away. (Go to 26:20)
See Also
You may also want to check out…
Episode 026 People v. Laguna, 2014 IL APP (2d) 131145 (August)
(No Right to Expungement in Illinois After a Pardon)
Before You Go…
It doesn't matter where you're at in your criminal law practice. Right now you can make a decision that leads to explosive litigation growth.
You can't argue with the idea that steady, persistent attention to the cases increases your litigation game. But what if you could double, triple, even quadruple the number of cases your brain can digest and process?
Are you ready to join the other attorneys who have discovered how to make their ears their secret weapon?
Yes! I'm Ready To…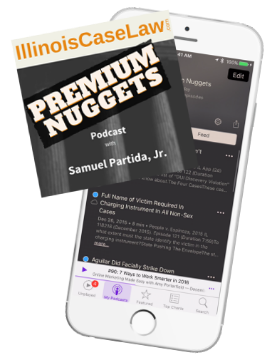 Increase my litigation skills.
Easily identify winning scenarios. 
Get fast and efficient case law updates.
The Premium Nuggets is by Invitation Only
(Click Here To Join The Waiting List)