Police drug dog or police K9 case law is fundamentally a fourth amendment search & seizure issue. Consistent with most search and seizure issues, "sniff" cases also have a complicated trajectory.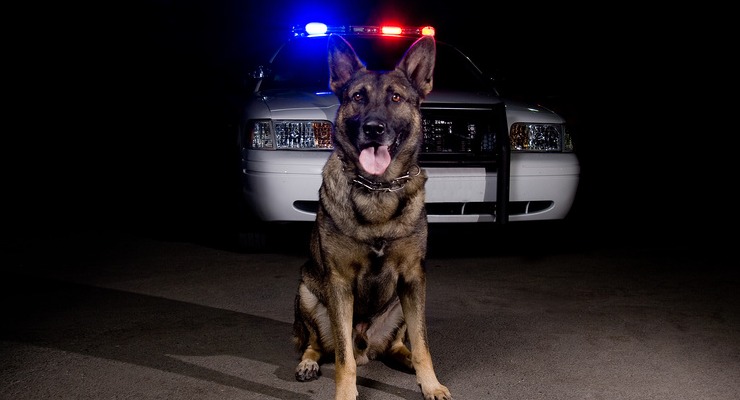 I have gathered all the important criminal cases and other resources pertaining to police K9's and drug dogs. To download these resources hit the link below:
---
Police K9 Or Drug Dog Cases Are Analyzed In Search & Seizure Cases
Drug dog cases are no different than other search & seizure cases. Here too, the slightest detail involved in a case my decide the outcome.
My goal is present this area of the law in a helpful manner for attorneys and other individuals who want to educate themselves on the topic.
On this page, you'll find the following sections:
A Case Law Summary
Four United States Supreme Court cases set the foundation framework in this area of the law. We'll begin with Illinois v. Caballes.
#1 Illinois v. Caballes
It all starts with Illinois v. Caballes, 543 U.S. 405 (2005).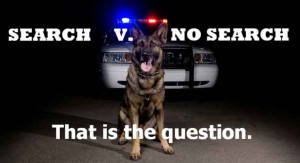 This case threatened to blow this issue wide open in favor of the police. It concluded that a police dog sniff was not a search.
Key Facts Of The Case
The case began when …
Defendant's car was stopped
He's ticketed for speeding
During the stop a canine unit appeared
Sniff dog handler walks the K9 around the car
Drug dog alerts on the trunk
Car is searched
Cannabis is discovered
Defendant is convicted for trafficking cannabis
Everything happened in under 10 minutes
Central Finding
SCOTUS said:
"That any interest in possessing contraband cannot be deemed legitimate, 'and thus, governmental conduct that only reveals the possession of contraband' compromises no legitimate privacy interest." Quoting United States v. Place, 462 U. S. 696 (1983).
In other words,
you don't have a privacy interest in illegal smells

.
The gist of the ruling is that a privacy interest does not exist for aromas that come from completely illegal contraband.
The Case Hinted That Unreasonable Delay May Be An Issue
The Court approvingly noted that the police officers detaining Caballes did not delay the traffic stop just so that the drug dog could finish the sniffing.
That was important.
Court wrote that:
#2 Rodriguez v. United States
The scope issue is further described in Rodriquez v. United States, Doc. No. 13-9972 (04/21/2015).
Key Facts Of The Case
The story for Rodriguez began when a K9 officers saw his car jerk to the right then quickly veer back into the lane. Additionally…
Defendant gets a warning for the lane violation
Officer asks for permission to sniff
Defendant denies the request
Defendant ordered out of the car
Officer has the drug dog sniff anyway
The drug dog signaled a positive alert
Police find over 50 grams of methamphetamine in the car
Entire traffic stop lasted 22 minute.
Central Finding
The Court held that:
"Consistent with this notion of scope is the idea that authority for the seizure ends when the tasks tied to the traffic infraction are or reasonably should have been completed. This goes way back toTerry v Ohio, 392 U.S. 1 (1968) and Illinois v. Caballes, 543 U.S. 405 (2005)."
The critical question is not whether the police dog sniff occurs in a reasonable amount of time, nor whether the dog sniff occurred before or after the ticket is written, but instead the critical question is whether conducting the sniff adds any amount of time to the stop.
This Case Said A Drug Sniff Is Not Within The Normal Scope Of A Traffic Stop
This case reaffirms that conduct outside the original scope of the traffic stop is unconstitutional. The distinguishing feature here is that a dog sniff was defined as being something outside the type of activities that will be considered "normal" during a traffic stop.
Further, the constitutional requirement here is not measured in absolute time. In other words, a traffic stop that occurs in a small amount of time can still be unreasonable if it is otherwise improperly "prolonged."
A traffic stop prolonged beyond the time that an expeditious officer could reasonably complete the mission of the traffic stop is unlawful.
See also People v. Cummings, 2016 IL 115769 (January 2016). Episode 131 (Duration 4:38) (What is the Ordinary Scope of a Traffic Stop? These Are The Minimum Things Police Can Do)
#3 Florida v. Jardines
Then there is Florida v. Jardines, 133 S.Ct. 1409 (2013).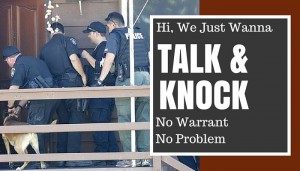 Most police K9 drug dog cases pertain to car searches.
Jardines, on the other hand, was growing the marijuana in his home. This difference is critical to the United States Supreme Court.
Key Facts Of The Case
This case began when …
Police informed that Jardines was growing marijuana
Police told he had a growing operation in his home
DEA agent with a drug dog knocked on front door
While there the drug dog alerted to presence of drugs
Police left
Police came back with a warrant to search
Before getting the warrant, the officers and the dog remained on the front stoop and only walked on the walkway of the stoop.
Central Finding
The Court commented that the Fourth Amendment actually uses the word "houses" (also known as your home) then held that:
The Amendment establishes a simple baseline, one that for much of our history formed the exclusive basis for its protections: When "the Government obtains information by physically intruding" on persons, houses, papers, or effects, "a 'search' within the original meaning of the Fourth Amendment" has undoubtedly occurred.

Jardines, 133 S.Ct. 1409 (2013); quoting United States v. Jones, 565 US 945, 132 S.Ct. 945 (2012) (this is a GPS tracking case).
The police were in his home and on his property in an investigative capacity. They did not have permission to be there. That was a search.
This Case Made It Clear That Our Homes Have More Fundamental Protection Than What Is Offered By A "Privacy Interest" Analysis
The Court was well aware of its own case law that said dog sniffs are not searches.
However, the Court refused to play the "expectation of a privacy interest" game in this case.
The police entered onto private property for investigative reasons, and our homes have always been protected by the constitution.
#4 Florida v. Harris
Finally, there was Florida v. Harris, 133 S.Ct. 1050 (2013).
Key Facts Of The Case
Harris begins with another traffic stop. This time …
Defendant was driving a truck with expired plates
Defendant shaking & breathing heavily
Defendant had an open can of beer in the cup holder
Defendant refused a request to search the truck
Drug dog brought out anyway
The Police K9 alerted to the presence of drugs
Police discovery ingredients and tools for cooking meth
Dog not trained to detect those items
Defendant gets out on bail
Stopped for broken brake light
Same dog sniffs the truck
Dog alerts but nothing found
The defense centered around an attempt to demonstrate that the drug dog was unreliable based on at least two instances of bad results in the field.
This guy, Harris, had been stopped by the same officer and dog, twice!
The first time the dog "alerted" to the presence of contraband. Yet, the dog was never trained to detect the items he alerted to.
The second time the dog "alerted" nothing was actually found. Thus, the defense was arguing that this dog was not a reliable drug detector.
Central Finding
The Court held that the dog involved in Harris was reliable.
The Court found that when determining the reliability of any given drug dog the trial court must apply a totality of the circumstances test the same way any time a search & seizure issue is involved.
The Court went on to say that a drug dog's reliability may be established simply by demonstrating that a drug dog has completed narcotics training satisfactorily.
Once, sufficient training has been established a Defendant remains free to challenge the police dog's reliability.
This Case Made It Clear That It Won't Be Too Difficult For Prosecutors To Admit Police Drug Dog Evidence
These key points from Harris cannot be overlooked:
Defendant has a right to challenge police dog's reliability
Counsel may cross examine the police dog handler
Counsel may call his own police dog expert
Adequacy of police dog certification or training may be challenged
Counsel can question the police dog's performance and assessments
Counsel can question the handler's performance in training
Counsel may explore the police dog's (or handler's) performance in the field
Normal rules of criminal procedure still apply (including discovery rules)
Understanding these cases is crucial to any defense of a police dog drug sniff case.
Recent Illinois Police K9 Cases
It Is Difficult To Completely Exclude Drug Dog Evidence
No doubt, it is easy to get discouraged after the findings in Florida v. Harris. After all, the dog in that case was batting 0-2, and the court still found the dog sufficiently reliable.
How could this be?
The Court was quite explicit in telling us that it will place very little value on a dog's actual field performance results when assessing reliability.
"False Positives" in the Field
The Harris court explained that a positive alert where no drugs are found doesn't necessarily mean the dog is unreliable.
The a drug dog may have actually been alerting to the residual odor of drugs. Perhaps, drugs were recently in that location but removed.
Additionally, with "false positives" how do we know the the drugs were actually there but the they were so well hidden that police failed to find them?
"False Negatives" in the Field
But wait there is more.
A false negative is when the dog does not alert but should because drugs are actually present. This is a problem because it is yet another example of an "unreliability" point that does not get recorded against the dog when it is in the field.
You see, if there is no alert when there should be then there is no search. If there is no search, there is no arrest. If there is no arrest, there is no case. And without a case, there is no data.
If a successful challenge is ever going to be made, we have to meet the court where it says it will entertain such a challenge.
Not Impossible
This means we have to make a full frontal assault on the training program that graduated the dog.
As a first step, it is paramount that we get up to speed on drug dog training. If courts are going to find police dogs reliable based largely on this one factor, it is incumbent on us to learn as much as possible about police dog narcotics training programs.
Get Proper Police Dog Discovery
Thorough police dog discovery should not be abandoned.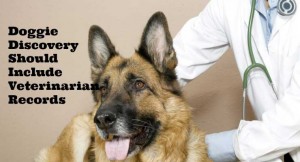 Simply stated, defense counsel is entitled to police dog discovery. "Doggie discovery" on the dog and handler may provide the only pathway to a successful challenge to the reliability of the drug dog.
We won't know anything about a police dog's reliability if we don't try to discover it.
As a group I think we, defense attorneys, have to be more organized and demanding about the discovery we receive pertaining to the dog in our cases.
We have a right to access training records that can help us assess the specific dog's reliability to not only detect drugs but also the dog's ability to accurately signal to the handler.
I have created a sample motion citing Illinois rules. This motion can easily be modified to fit your jurisdiction.
Click Here, or the image below to get a PDF of my discovery motion.
Case Law On Discovery
The case law supports our right to this information.
There are at least two federal cases holding that defense counsel is entitled to some kind of "police-dog discovery."
See United States V. Juan Pablo Cedano-Arellano, 332 F.3d 568 (9th Cir. 2003).
The defense, in this case had filed a motion for discovery. They were looking for the "dog handler's log, all training records, and score sheets, certification records, and training standards and manuals" pertaining to the dog. Cedano-Arellano, 332 F.3d 568.
The defense had retained an expert to review the dogs performance and training records. The appellate court agreed that the discovery was "crucial to [counsel's] ability to access the dog's reliability and to conduct an effective cross-examination of the dog handler." Cedano-Arellano, 332 F.3d 568. United States v. Thomas, No. 11-10451, August 8, 2013 (9th Cir. 2013); citing United States v. Cortez-Rocha, 394 F.3d 1115, 1118 (9th Cir. 2005) (these disclosures are mandatory when the government seeks to rely on a dog alert as the evidentiary basis for its search).
Here, the appellate court held it was error for the state to disclose heavily redacted records concerning the narcotics training received by the police dog. Thomas, No. 11-10451.
The defense was challenging the drug dog's reliability and whether the "behavior the dog exhibited as a probable-cause-generating 'alert'" was actually an alert. Tomas, No. 11-10451. The court noted that the question "is whether the redacted passages would have undermined the reliability of [the police dog] so as to defeat probable cause." Tomas, No. 11-10451.
Because this question could not be answered, the conviction had to be reversed.
All the cases discussed above, point out that the defense attorney has the right to probe and challenge the reliability of a police dog. In order to do that, it means asking for the right kind of discovery.
File a Police Dog Discovery Motion
The best way to find out if the sniffing skill in any particular police dog sniffing case is reliable is to file a motion for discover. The cases above make it clear that police dog discovery is covered by Federal Rule of Criminal Procedure 16(D) and (F).
Most states have very similar rules.
For example, in Illinois,
"Upon a showing of materiality to the preparation of the defense, and if the request is reasonable, the court, in its discretion, may require disclosure to defense counsel of relevant material and information…"

Illinois Supreme Court Rule 412(h).
A canine sniff resulting in probable cause for a search does not mean a case is indefensible.
Yes, the case law generally favors the canine sniff. However, the same case law clearly outlines that rules of procedure and evidentiary rules still apply.
Know Where to Look
The biggest mistake occurring in the litigation around drug dogs involves making the wrong kind of challenges.
When a particular field history of a dog is known, it becomes really easy to attack that record in court. The basic argument in a case is something along the lines:
"See judge, Fido performed badly in these real life examples, therefore you cannot rely on his 'alert' in my case."
Those kind of "in the field" challenges have been routinely, and quite easily defeated by the prosecution. At the end of the day, what you consider an unreliable drug dog, may be seen quite differently from the court's perspective.
For example…
Bad Dog's Still Win
We don't have to look very hard to find an example of an "unreliable" dog who won their case in court.
Remember, the dog in Harris was 0 for 2 with that defendant.
See also United States v. Bentley, No. 13-2995 (07/28/2015).
In Bentley, the defendant challenged the reliability of the Lex, the police drug dog. This police dog sniffed Defendant's car and alerted to the presence of 15 kilos of cocaine.
Defendant's defense revolved around the idea that Lex had a propensity to alert. The defense actually established that the dog alerted nearly every time he was called upon, regardless of whether or not drugs were ever present.
Even the court acknowledged that the Defendant made a strong showing against the drug dog's reliability and that the defense "put on a good case." pp 10. Defendant "presented a fair amount of evidence that Lex was at the back of the pack" of his graduation class.
Additionally, the defense showed that:
Lex failed two simulated vehicle search tests
Lex was removed from the field for more training
Lex overall percentage was not much better than a coin flip (59%)
Lex has learned he gets rewarded for alerting regardless if drugs are found
In fact, the appellate court agreed with many of the defense attorney's points. The court actually wrote:
"This giftee policy seems like a terrible way to promote accurate detection on the part of a service animal, lending credence to Bentley's argument that Lex's alert is more of a pretext for a search than an objective basis for probable cause." pp 10.
But the dog still won his case.
Making a Successful Challenge to Drug Dog's Reliability
The lesson for us here, is that we cannot base a challenge to a drug dog's reliability entirely on the dog's field performance records, no matter how dismal the records.
A successful challenge will likely have to include two other major areas of attack.
The inadequacies of the training program
The actual sniff
That did not happen here. This case was based entirely on attacking the dog's pity field performance record. This is not going to be enough.
Other Drug Dog Legal Resources
My research into this topic has revealed other drug dog legal resources that may be helpful to you.
Consider looking at these resources for more information:
…and don't forget to download my rug dog resource list.
Brendan Costigan's Post Harris Guidance
This is a great compilation of the case law up to the date of publication of this article. It was revised on April 8, 2014.
So, I would make this the starting point for any case law search. Then you can limit your own search to cases released after April 8, 2014. Brendan does a great job of laying out a basic framework for attacking a drug case.
Make this your launch pad and start here. Here is the link again: Post Harris Guidance Challenging Police Dogs.
North Carolina Office of Indigent Defense Services
The North Carolina version of the public defender's office put together the Forensic Resources | Detection Dogs web page.
They do a super job of gathering resources on this topic. There is a plethora of useful information there. However, do not rely on this web page if you're hunting for a drug dog expert. That aspect of the site has not really been developed.
But, if you want to make sure you covered all your bases, don't miss this link: Forensic Resources | Detection Dogs.
Animal Legal & Historical Center
The Animal Legal & Historical Center published the article, "Cueing and Probable Cause: Research May Increase Defense Attacks on and Judicial Skepticism of Detection Dog Evidence".
This paper comes off as more of an "academic" publication. However, if you can make it through that type of writing you'll be richly rewarded. This paper will get you up to speed with the "cueing" problem in no time.
Again, you'll find footnotes to relevant case law. If you suspect "cueing" is involved in your case or if you're just looking to brush up on the subject, this paper has to be on your list of resources to review. The direct link to the paper is right here: Cuing and Probable Cause Research.
SWGDOG
The Scientific Working Group on Dog and Orthogonal Detector Guidelines (SWGDOG) is a federally organized meeting of the experts. They came up with "guidelines" (not a national standard) that should be followed by drug training programs.
Although, there are no national standards when it comes to drug dog training, the agency involved in your case is likely to have stuck close to the SWGDOG standards.
There is no going around having to dive into these guidelines. Get use to them and learn them. Specific policies exist for a reason. The farther your drug dog veered from a standard the easier it is going to be to establish unreliability. (See how that works.)
You can find the resources released by this working group below:
Conclusion
Canine sniff cases are not completely unbeatable. There is still a role for the vigilant defense attorney. When a police dog or drug dog sniff case lands on your desk the analysis looks like this –
Dog on client's property without warrant or without permission is an illegal search
Traffic stop sniff only legal if stop not prolonged
All police dogs and handlers have to be trained and reliable (get discovery to test reliability)
At the very least, make sure to download my drug dog resource list and "doggie discovery" motion to make sure you at least are proactively ensuring you have gathered the documents that you need to scrutinize your dog.
You can short circuit all your time and legal research, and also earn Illinois CLE credit by listening to my 1.25 audio-only drug dog course designed to get attorneys quickly up to speed, so they can start to learn how to successfully challenge drug dog sniffs.