In Illinois involuntary manslaughter is an unintentional killing. It results when a person acts recklessly such that their conduct leads to the death of another individual.
What's The Difference Between Involuntary Manslaughter And First Degree Murder?
First-degree murder requires an intentional or knowing act that creates a strong probability of death or great bodily harm. 720 ILCS 5/9-1(a)(1).
Involuntary manslaughter requires reckless conduct that is likely to cause death or great bodily harm to an individual. 720 ILCS 5/9-3(a).
The difference between involuntary manslaughter and first-degree murder is the mental state accompanying the act that causes the victim's death.
Involuntary Manslaughter Illinois Statue
Note: In Illinois involuntary manslaughter and reckless homicide are essentially the same thing. A reckless homicide just involves a motor vehicle.
Involuntary Manslaughter in Illinois is listed under 720 ILCS 5/9-3(a). It says,
A person who unintentionally kills an individual without lawful justification commits involuntary manslaughter if his acts whether lawful or unlawful which cause the death are such as are likely to cause death or great bodily harm to some individual, and he performs them recklessly, except in cases in which the cause of the death consists of the driving of a motor vehicle…"

720 ILCS 5/9-3(a)
Involuntary Manslaughter Example
Take, for instance, this real life example. In the real case the kid did not die. But her friend did think it would be funny to push her friend off a bridge.
Not the smartest thing to do in the world. Had the person who was pushed off the bridge died we'd have an involuntary manslaughter on our hands.
The friend was just trying to be funny.
She had no intent to harm nor did she knowingly harm her friend. Nonetheless, pushing someone off a bridge is pretty reckless. The mental state for an involuntary manslaughter in Illinios is recklessness.
Involuntary Manslaughter Sentence
Involuntary manslaughter is a Class 3 Felony. See the chart below and learn more about Class 3 Felonies in Illinois.
| Class | Sentencing Range | Extended Term (if eligible) |
| --- | --- | --- |
| Class M | 20-60 years | 60-100 years |
| Class X | 6-30 years | 30-60 years |
| Class 1 | 4-15 years | 15-30 years |
| Class 2 | 3-7 years | 7-14 years |
| Class 3 | 2-5 years | 5-10 years |
| Class 4 | 1-3 years | 3-6 years |
Involuntary Manslaughter Can Be A Lesser Included Offense Of Murder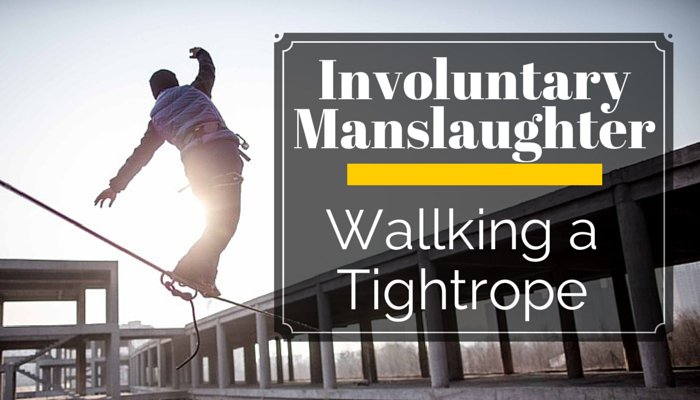 People v. Smith, 2014 IL App (1st) 103436 (July). Episode 011 (Duration 9:46).
Involuntary manslaughter as a lesser included offense to murder, is legally possible. However, I doubt that is very common. This case is an example of that.
The Facts
Defendant shot his girlfriend's husband.
Defendant testified that he entered the home late at night when he was not invited. But they pulled a gun on him. Defendant had to wrestle it away. Husband ended up shot in the chest when the gun just "went off" during the struggle.
The State's Evidence Was Different
The State's Evidence Showed –
All bullets fired hit a victim
Victims were naked and defenseless
Defendant burst into their bedroom
Defendant broke the phone
Defendant took the gun
Defendant ran from police
Defendant lied about his name
Judge's Decision To Grant Instructions On Involuntary Manslaughter
To win an involuntary manslaughter as a lesser included offense to murder instruction, the judge is going to look at the facts and decide if an act of recklessness was described somewhere in the proofs.
The court will look at these factors that establish recklessness –
The brutality and duration of the offense
The severity of the victim's injuries
The disparity in size between the defendant and the victim
Whether the defendant used a weapon, and
Whether the defendant struck multiple times
Involuntary Manslaughter As A Lesser Included Offense
In this case, the dense was walking a very narrow tightrope when betting that they would qualify for the involuntary manslaughter instruction.
They didn't make it.
The Legal Lesson
Just because one can theoretically win a lesser included on the thinnest of evidence, it does not mean that we actually will get it.
The more inconsistent a defendant's testimony is with a theory of a reckless killing the less likely the instruction will be won.
A defendant who is adamant about proceeding with a claim of self defense has to be counseled on what may be given up.
See Also The Other Illinois Homicide Statutes