Missouri v. Stockley, 1622 CR 02213-01 (September 2017). Episode 397 (Duration 39:07)
Former St. Louis Officer Jason Stockley acquitted of Murder. Here's what they didn't tell you.
Subscribe: Apple | Google | Spotify | Android | RSS | Direct Download
APPLE PODCASTS GOOGLE PODCASTS
In This Episode
"It seems more reasonable to conclude that what the State characterizes as a 'puff of smoke' was in reality exhaled breath in cold air. Puffs of smoke are seen multiple times on the dash cam video unrelated to the firing of any gun, but coming from the mouths of officers in cold air." — Judge Timothy J. Wilson
I'm Ready To Start Making Better Use of My Drive Time And Ready To…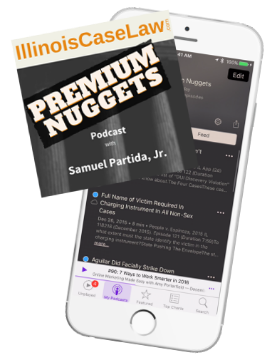 Increase my litigation skills.
Easily identify winning scenarios. 
And get the most recent case law updates.
The Premium Nuggets is by Invitation Only
(Click Here To Join The Waiting List)
In This Episode
✓ A law enforcement officer need not retreat or desist from efforts to arrest or prevent  the escape of a person the officer believes to have committed an offense. A law enforcement officer is entitled to use deadly force where the officer reasonably believes the use of deadly force is necessary to effect the arrest and reasonably believes the person is attempting to escape by the use of a deadly weapon or may otherwise endanger life or inflict serious physical injury.  (Go to page 19)
✓ There was also no evidence that Stockley even knew who was being pursued. (Go to page 20)
✓ The Court does not believe Stockley's conduct immediately following the end of the pursuit is consistent with the conduct of a person intentionally killing another person unlawfully. (Go to page 21)
✓ Stockley admitted he was in possession of an AK-47 pistol, he testified he knew his possession of such a weapon was in violation of department policy, but he said he had it with him to use as a deterrent in situations in which he (and other officers) might be facing persons armed with more dangerous weapons than a Baretta service revolver. (Go to page 23)
✓ In regards to the gun the prosecution says Stockley planted in the victim's car: The gun was a full size revolver and not a small gun, such as a derringer, that n fit in the palm of one's hand or into the side pocket on a pair of pants without being obvious. Stockley was not wearing a jacket; if he had such  a gun in his possession it would have been visible on the cell phone video. The tun was too large to fit entirely within any of the pockets on the pants he was wearing, there was no bulge in any pocket indicating a gun within the pocket, and the gun would have been visible if it was tucked into his belt. Three were several officers standing around adjacent to the driver's side of the Buick and not one of them was called to testify that the saw Stockley plant a gun in the Buick. (Go to page 25)
Links & Resources