In Podcast Episode 008, I discuss how Illinois gun laws are big mess. Why do we have two very similar charges criminalizing possession of a firearm by a felon? To make it even more confusing, in parts of Illinois, one of these charges has been declared illegal.
The case of People v. Gayfield has  mixed things up even more.
Brief Background
People v. Aguilar, is the case that declared certain Illinois gun laws unconstitutional. Specifically, it declared Illinois Compiled Statutes Criminal Code section 720 ILCS 5/24-1.6(a)(1) illegal.
However, even Aguilar acknowledged that some gun convictions were legal. The case specifically, pointed out Unlawful Use of a Weapon (UUW) cases by felons were good charges. In other words, those kinds of statutes were constitutional.
Gun Charges Against Felons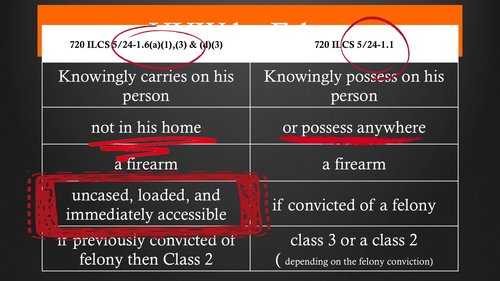 It turns out, in Illinois, there are two separate provisions in the Criminal Code which prohibit felons from possessing guns.
We have "Aggravated unlawful use of a weapon" under 720 ILCS 5/24-1.6(a)(1), (a)(3)(A), and section (d).
Then we have "Unlawful Use or Possession of Weapons by Felons" under under 720 ILCS 5/24-1.1
See the chart above comparing these criminal statutes.
These are different laws, essentially, criminalizing the same thing.
People v. Gayfield
Then the Fourth Appellate District came along. This decision extended the finding of unconstitutionality to the first statute I described above. The bottom statute was left untouched.
To demonstrate even more how Illinois gun laws are a big mess, this new finding of illegality of 720 ILCS 5/24-1.6(a)(1), (a)(3)(A), and section (d) is only recognized by the Fourth District.
This means, we defense attorneys, now not only have to keep close track of the exact charge a client may be facing; we also have to be keenly aware of where the charges are filed.
Illinois Gun Laws Are a Big Mess
You see what I mean? Some gun charges are unconstitutional in some parts of Illinois. Gun charges against minors and all the gun charges in the FOID sections are all still good law.